This photo, Eleanor snorkeling off Anchor Bay in Aughrusbeg, appeared on the letters page on Friday 12th June.

Connemara 2014
Ballan wrasse photo taken in the Farnes is on the front cover of MCS Spring magazine.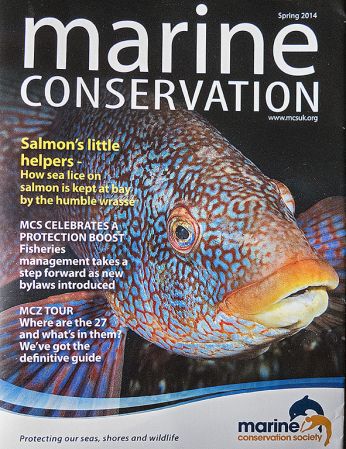 After a very wet & windy few months, I've only managed two cold open   water dives - both in Capernwray and a couple of try dives in the pool using a full-face mask. Photos added to freshwater and miscellaneous pages.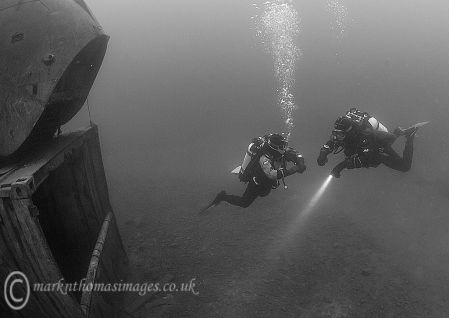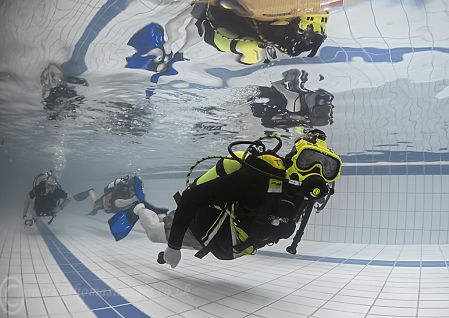 Roonagh is now 6 months old and proving quite a handful - a typical irish setter! Loads of energy and mischief - well behaved when she's asleep. Just returned from her first visit to the seaside - Conwy.  A mad hour on the beach with Finbar.  Photos added to dogs.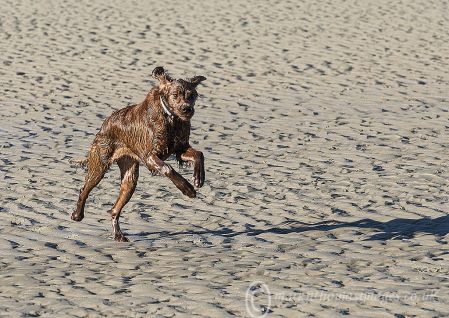 Our new puppy, Roonagh, joined the Thomas household this month - she's settled in quickly and is a great little companion for Finbar. Photos added to the Dogs page.
This photo of a rainbow trout, taken in a rain storm in Capernwray, has been placed third in the Coldwater category of this year's Los Angeles Underwater Photography Society Competition.

Irish Wildlife Trust - 2012 Wildlife Photo Competition.
One of my photos has been chosen as a finalist in this year's Irish wildlife photo competition and will feature as February in the 2013 IWT calendar. The photo, a compass jellyfish in Little Killary, was taken during a flying visit to Connemara in 2009.

www.iwt.ie 

- copies of the calendar available on website
September 2012 - Connemara
Heather Greer, a local resident and photographer has set up a website highlighting the attractions of Aughrus and its environs. It features local news, activities and facilities etc. As well as Heather's photos, a few of my own, taken during our numerous visits to Connemara, are featured. 

June 2012
I've only had 3 dives in UK so far this year - all freshwater sites. Have spent more time on "nature walks" with Finbar, photographing the local fauna and flora. It's quite a challenge taking photos accompanied by an inquisitive & boisterous Irish setter. Photos have been added to the site - click on birds, dogs, fauna or Northwich for the latest.
                        
Revillagigedos Islands - March 2012
Travelled to Mexico with Frogsborn

Diving

, last two weeks of March, to dive the Revillagigedos Islands aka Socorro. We flew to Cabo san Lucas via Los Angeles and spent five days in the town before boarding the Solmar V for a week's diving out in the Pacific Ocean.
There are four islands in the archipelago, Socorro, Isla San Benedicto, Roca Partida and Clarion Island. The islands are uninhabited apart from a small naval presence on Socorro, and lie 250 km south west of the Baja Peninsula. Diving was challenging especially on Roca Partida, with horizontal and vertical currents, but it's these conditions that attract the "big stuff" to the islands.

We had some fantastic dives with the giant Pacific mantas, dolphins, various species of shark and even heard humpback whales singing during one dive. The mantas were passing within feet of us, seeming to like the feel of the exhaled bubbles on their bellies. The sharks unfortunately kept their distance so didn't get any decent photos. From the boat we saw whales breaching and tail slapping, dolphins and leatherback turtles

.

British Wiildlife Photography Awards 2011 
Diving 2011
Not much diving this year compared to previous years - a couple of dives in Trefor Pier & some at Capernwray and Eccleston Delph.  I've added a few underwater photos from this year to the site and some from above water.
Finbar part 3
Finbar is now 6 months old and growing into a lovely natured,  boisterous and mischevious dog.
 
Finbar - part 2
Hartford SAC 2010 Photo Competition
First Place - Divers Underwater

First Place - Wide-angle

Finbar
New Year's Eve saw us bring home the latest member of the Thomas household - 12 week old Finbar - an Irish Setter pup. He's already acquired the nickname "  the minx beast. "
        
Underwater Photography Guide - Ocean Art Competition 2010
My photograph of bootlace weed, taken in Aughrusbeg, Connemara has been awarded 4th place in the wide-angle category.
British Wildlife Photography Awards 2010
Two of my images were awarded Highly Commended in this year's competition and will feature in the exhibition touring the UK during 2010-2011.
Highly Commended
A third photograph has been included in the BWPA 2010 book, which features the winning photos from this year's competition.
Marine Conservation Society
Several of my photos have been used by MCS to promote the "Your Seas Your Voice" campaign and feature in the winter edition of the MCS magazine, including the front page!
At present, less than 1% of the UK's seas are fully protected and this campaign is aimed at helping the government with the setting up of Marine Conservation Zones (MCZ) around UK.
Members of the public can get involved by voting for their
favourite
places:
www.yourseasyourvoice.com
Irish Wildlife Trust
I provided an article for the Autumn 2009 magazine, describing the underwater world off the coast of Connemara in the west of Ireland.


The article used photographs taken during our visits to Claddaghduff over the past 12 years.
Galapagos Conservation Trust
The Galapagos Conservation Trust 2010 calendar features as its December photo, my image of a green turtle and steel pompano taken during a trip to Galapagos in 2008. This was chosen as the judges' choice in GCT 2009 photographic competition.